There are already many futuristic hotels being built around the world, but what kind of hotel designs are to be built in the future? Here are just some of the futuristic hotel projects, that are being built very soon. Check them out!


1. The DIAMOND RING HOTEL:

This hotel is to be located in Abu Dhabi, and it's still in it's conceptual stage. Unfortunately, just little is known of this conceptual project.
2. The LUNATIC HOTEL:
Dreaming of space? Soon, you'll be able to live on a satellite. The Lunatic Hotel is set to be build on the Moon!! Designers already have the blueprints ready, so the hotel should be completed in 2050. The hotel will include an engine, that will allow guests to "indulge in low-gravity games with the help of two 160-meters high slanting towers." The 50 cm hull made from Moon Rock layered with water will provide the antidote to the ruthless lunar environment, extreme temperatures, lethal cosmic rays and solar particles.
3. WATERWORLD:
The Waterworld is a concept, designed by Atkin's Architecture Group. It won the first prize award for an international design competition.The Waterworld is to be built at a water filled quarry in Songjiang, China. The resort hotel will contain 400 beds, and will feature underwater guest rooms and public areas, cafes, restaurants and also some sporting facilities. The Extreme sports center for activities such as rock climbing and bungee jumping, has been also included in the original design.
4.The APEIRON ISLAND HOTEL:
It's to be a 7-star hotel with a total floor area of 200,000m², and it's still in a conceptual stage. It is being designed by Sybarite and it's $500million project. This island hotel will have over 350 luxury apartment suites and will be accessible by water and air only. There will also be beaches, restaurants, art galleries, retail shopping, cinemas, spas and conference facilities for you to enjoy.
5.
The HYDROPOLIS UNDERSEA RESORT
The Hydropolis Undersea Resort is a $500-million project designed by Joachim Hauser. It's proclaimed to be a 10-star underwater hotel, located in Dubai. This underwater hotel has been designed with this base that 60% of our surroundings is water. The area offers you a shopping mall, ballroom, island villas, restaurant, high-tech cinema for your pleasure, and also a missile-defense system for your security. The retracting roof is designed to organize open-sky events. We can expect the hotel to open up very soon, but the project has been delayed a little bit.
6. DEATH STAR LUNAR HOTEL COMPLEX
The hotel is to be facing the Caspian Sea, and it's named Hotel Full Moon. It's designed as a disc with rounded edges and a hole in one of the top corners. And here's also the Hotel Crescent, a curving arch similar to a crescent moon, that will mark out an area appropriately named Full Moon Bay. The design is made in a way to appear drastically different from different viewing angles. Hotel Full Moon will be a 150 meter-high, 35 story luxury hotel with 382 large rooms.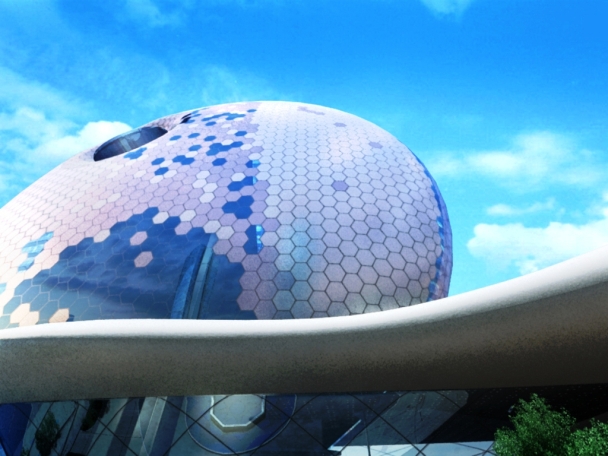 7. The AEROCRAFT: FLYING LUXURY HOTEL OF TOMORROW:
The Aeroscraft model ML866 is to be built by the Worldwide Aeros Corporation, it's to be a planned 400-ton hybrid airship, a scaled-down prototype was made in 2008. The 'Aeroscraft' is designed to carry passengers in its spacious luxury cosmos onboard. The flying hotel hangs in air with 14 million cubic feet of helium and it has an area equal to two football fields. It's powered by huge electric and hydrogen fuel cell powered propellers and six turbofan jet engines. The hotel can accommodate 250 passengers driving them at a speed of 174 miles per hour up to 6, 000 miles.